Biographies
Anthony Maiello, Conductor
Anthony J. Maiello, Artistic Director and Conductor, American Festival Pops Orchestra, Washington, D.C., makes professional appearances both nationally and abroad conducting music festivals, adjudicating ensembles and presenting clinics, lectures and workshops throughout the United States, Canada, Mexico, the Bahamas and Europe. He conducted musical activities for the Gold Medal Ceremonies at the 1980 Winter Olympics in Lake Placid, New York; served as Musical Director for Music Festivals International; was selected as President of International Association of Jazz Educators – New York State Chapter; and is a guest clinician for Yamaha Corporation and Warner Bros. Publications. In March of 2010, he was inducted into the Bands of America Hall of Fame at Music for All's Indianapolis headquarters.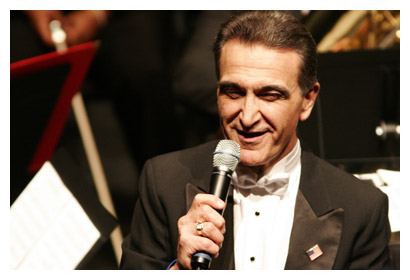 Professional recording credits include conducting the American Wind Symphony and additional studio ensembles for Alfred/Belwin Publications. Locally, Maiello has served as Associate Conductor of The McLean Orchestra, McLean, Virginia; been appointed an Honorary Conductor of The United States Navy Band, Washington, D.C.; and was a participant in the National Conducting Institute with Leonard Slatkin and the National Symphony Orchestra in Washington, D.C., to which he has provided his services as a cover conductor.
Maiello received his Bachelor's and Master's degrees in Music Education from Ithaca College, Ithaca, New York in 1965 and 1967 respectively, and has extensive experience teaching in the public schools and at the university level. While at the Crane School of Music, Potsdam College of SUNY, Potsdam, New York, he served as a Professor of Music and Chairman of Performance, where he taught Advanced Instrumental Conducting, Applied Clarinet, Woodwind Techniques, Percussion Techniques and conducted the Crane Wind Ensemble.
Presently, Maiello is Associate Director of Development and a Professor of Music with George Mason University's School of Music, where he has taught a variety of courses and conducted all major instrumental ensembles at various points during the past 23 years. Throughout his career, Maiello has published musical compositions for string orchestra and is the author of "Conducting Nuances" (GIA Publications, Inc.); "Conducting: A Hands-On-Approach" (Warner Bros./Alfred Publications); and co-author of "The 21st Century Band Method" (Warner Bros./Alfred Publications). In 2007, Maiello was awarded the title of "University Professor" by the GMU Board of Visitors, the highest rank given to Mason faculty members.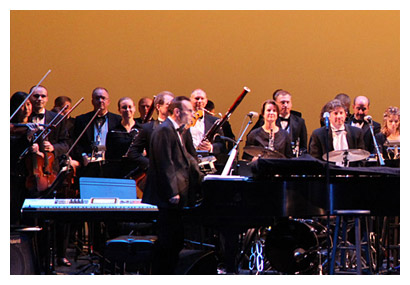 The American Festival Pops Orchestra
The American Festival Pops Orchestra (AFPO), under the baton of Artistic Director and Conductor Anthony Maiello, is currently the only orchestra in the Washington, D.C. area to offer year-round performances dedicated to the finest in popular music. Through lively programming and repertoire, this dynamic ensemble treats audiences to a festive Pops experience that pays tribute to the celebrated musical genre that is a cherished part of American pop culture.
A gathering of extraordinary musical talent, the American Festival Pops Orchestra makes its home at George Mason University in Fairfax, Virginia. Comprising more than 60 professional musicians from and around the Washington D.C. area, the AFPO includes members of the United States military ensembles, regional symphonies, and George Mason University's music faculty. The orchestra is also proud to include a select group of talented young musicians from George Mason University's School of Music.
The American Festival Pops Orchestra is committed to its mission to present the best of a treasured musical genre employing some of the country's most distinguished performing artists. Whether performing Broadway hits, legendary film scores, or light classics, the AFPO will strike a nostalgic chord with fans young and old.